Face
Learn More About Our
Facial Plastic Surgery Procedures
Experience Matters
Having performed more than 20,000 facial cosmetic procedures, Dr. Flaharty is considered an expert. His cosmetic surgery patients from around Naples, Bonita Springs, and Fort Myers, Florida, enjoy a harmonious and natural-looking rejuvenation of their facial features.
---
Watch Dr. Flaharty Explain Harmonious Facial Rejuvenation
Facelift & Neck Lift
If you notice visible aging in the lower face and neck, the Azul Natural Lift may be right for you! Dr. Patrick Flaharty uses an individualized approach when combining the facelift and neck lift procedures. He strives to give results that are youthful-looking and enhance your natural features. comprehensive approach (combining a facelift with a neck lift) to create results that are natural-looking and complement your own unique features.
---
Watch Dr. Flaharty Explain The Azul Natural Lift
Fat Transfer
As we age, there is a decrease in fat volume on the face. People frequently choose to enhance the volume on their face with synthetic filler injectables. Dr. Flaharty has begun treating patients more organically with a fat transfer. He refers to fat transfer as 3D rejuvenation because the small deposits of fat will be able to rejuvenate the face with more volume.
---
Watch Dr. Flaharty Explain Fat Transfer
Endoscopic Brow Lift
An endoscopic brow lift, also called an endoscopic forehead lift, uses a small-incision technique to elevate the brows and erase the lines and creases on the forehead. The endoscopic brow lift is useful to improve the appearance of both men and women with incisions hidden in the hairline.
---
Watch Dr. Flaharty Explain Endoscopic Brow Lift
Eyelid Surgery
Have you noticed the skin around your eyes stretching and wrinkling creating a tired or worn-out appearance? This is common as the eyelids are the first parts of the face to show signs of aging. Eyelid surgery (blepharoplasty) at Azul Cosmetic Surgery can rejuvenate your eyelids and a natural looking result.
---
Watch Dr. Flaharty Explain Eyelid Surgery
CO2 Laser Skin Resurfacing
If the Florida sun has severely damaged your skin, or if you have a lot of age spots or acne scars, laser skin resurfacing can help correct this! CO2 resurfacing is a laser procedure that removes layers of damaged skin to reveal healthy layers of skin underneath.
---
Watch Dr. Flaharty Explain Laser Skin Resurfacing
Just for Men
Women are not the only ones who want to reverse signs of aging. At Azul Cosmetic Surgery & Medical Spa, we offer all of our procedures and treatments for men. Dr. Flaharty uses specific techniques for men as there are distinct differences in the approach to facial rejuvenation for men when compared with women.
---
Male Eyelid Surgery Before & After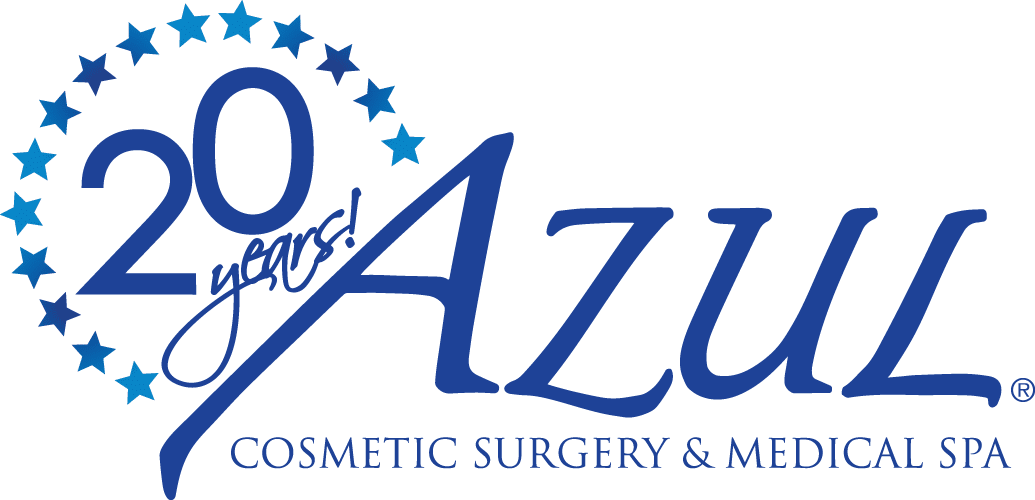 ---
---
---
---
---
[gravityform id="2" title="false" description="false"]